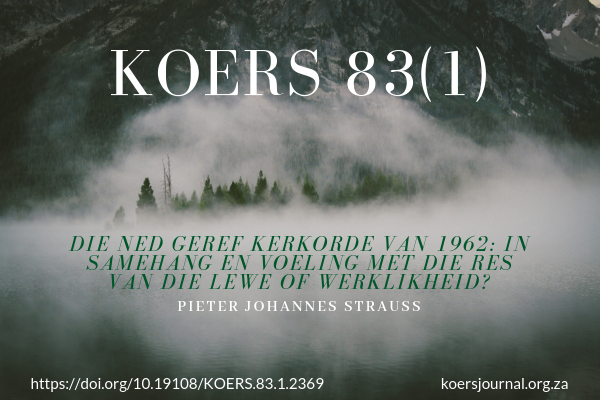 DIE NED GEREF KERKORDE VAN 1962: IN SAMEHANG EN VOELING MET DIE RES VAN DIE LEWE OF WERKLIKHEID?
Abstract
Abstract: The Church Order of 1962 of the Dutch Reformed Church: connected to the rest of life with a feeling for the whole of creation?
The Church Order of 1962 was the first church order accepted by the new General Synod of the Dutch Reformed Church. Apart from the fact that it tried to be an order according to Holy Scripture and the Three Formulas of Unity as reformed confessions of faith, it contains articles based on norms revealed out of the contact and cooperation of the church with the rest of life. Norms revealed out of the pattern of God's creation in which aspects created with an own character together with other such aspects, form an integrated whole. An aspect will lead a human act and use the core of other aspects to form norms for the act mentioned.
The Church Order of 1962 is investigated from article 1 till 70. The question in the title is answered in the affirmative. This Church order is connected to the rest of life and contains articles to confirm this.
Opsomming: Die Ned Geref Kerkorde van 1962: in samehang met die res van die lewe of werklikheid?  
Die eerste kerkorde van die nuwe Algemene Sinode van die Ned Geref Kerk in 1962 poog om Bybels en belydenismatig te wees. Daarom bou dit op konstantes of beginsels wat op die Woord van God en die belydenisskrifte van die Ned Geref Kerk gebaseer is. Hiernaas weerspieël dit norme soos blootgelê deur die samehang van die kerk met die res van die lewe of geskape werklikheid. 'n Werklikheid waarin daar 'n verskeidenheid oorspronklike aspekte is wat met mekaar saamhang. 'n Lewe waarin elke menslike handeling deur 'n aspek gelei word en die kern van ander aspekte in diens neem as norme vir optrede.
Die Kerkorde van 1962 word van artikel 1 tot 70 vir sulke norme of samehange ondersoek. Die vraag in die titel word bevestigend beantwoord. Die Ned Geref Kerk leef in samehang en voeling met die res van die lewe.
https://doi.org/10.19108/KOERS.83.1.2369
Copyright (c) 2018 Pieter Johannes Strauss
This work is licensed under a
Creative Commons Attribution-NoDerivatives 4.0 International License
.
| | |
| --- | --- |
| ISSN: 0023-270X (print) | ISSN: 2304-8557 (online) |   |
All articles published in this journal are licensed under the Creative Commons Attribution license.
© 2018 Scriber Editorial Systems a division of WATU Youth Village. All rights reserved. No unauthorised duplication allowed.


E-mail:

support@scriber.co.za

/ support@koers.co.za